Global competition for a limited pool of tech talent is heating up. Here's how to reframe the talent shortage and overcome it:
The COVID-19 pandemic solidified digitalization as the cornerstone of the future. As companies learned how to connect with customers virtually and entered the next normal of hybrid work, they crammed about a decade's worth of tech adoption into a single slap-across-the-face year.
Put simply: economic stakes are rising as technology sweeps every market sector.
The latest US labor statistics are bringing major concerns for corporations across all industries. By the end of 2020, there were 1.4 million unfilled CS jobs, with the number of US students graduating into the industry at only 400k a year.
If the global software development shortage keeps evolving at the same pace, companies worldwide risk losing $8.4T in revenue because of the lack of skilled talent.
Making quality hires is one of the most demanding challenges corporations face, and the snowballing shortage has many companies feeling like they have to scramble. The problem? They get desperate to hire and often end up with wrong people –– losing even more momentum and money.
You can't tame the tech talent deficit by hunting for bodies alone; for the best results, you must also optimize your internal processes. As NZ Labs CEO Chris Hugill observes, "it's about the power of leadership, the power of teams, and, ultimately, the power of being aligned."
The US Tech Talent Shortage in Statistics
Corporations and workers alike are struggling to keep pace with evolving skill requirements. In new and niche markets, such as AI, Blockchain, Machine Learning, and more, this shortage will be even more keenly felt. Companies with big budgets and resources have hiked up wages to secure specialized talent, leaving enormous wage inflation that small and medium-sized companies can't stay afloat in.
To further convolute the dynamic, governments are also entering the scramble. School districts, cities —even entire countries—are clambering to poach employees from each other by offering targeted financial incentives for tech talent, including higher salaries and tax breaks.
As the 2020 Global Knowledge survey observes, 67% of IT decision-makers believe skill gaps cost their employees anywhere in the ballpark of three to nine hours of work per week. These factors, obviously, exacerbate employee dissatisfaction, in turn, escalating attrition rates

Staff turnover in the US IT industry is already the highest of any industry, ranking at 13.2%

According to Forbes & US Bureau of Labor Statistics, the demand for engineers with specialized skill sets will skyrocket to 22 percent from 2019 to 2029 

The Bureau of Labor Statistics indicates that by 2026, the shortage of engineers in the US will exceed 1.2M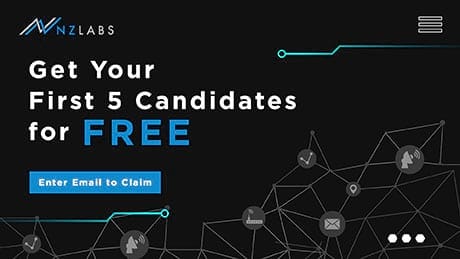 Don't Miss Out On...
Get Your First 5 Candidates for FREE
Enter your information bellow to claim the offer.
How To Overcome
The tech talent shortage is self-evident and evolving, but the solution may be more multifaceted than you think. As Hugill notes, "the tech talent deficit isn't as simple as just having enough bodies –– it's also about optimizing your processes."
Here's how:
Take The Scramble Out of The Search
Yes, some are referring to it as the tech talent scramble. But allowing it to ignite your fight or flight will only cost you more in the end.
Conquering the talent deficit is not just about filling seats –– it's about ensuring you have the right approach and strategy outlined for when you fill those seats. "In the current climate, we see people desperate to hire anyone, but what they don't realize is that if you don't find the right person who aligns with your thinking, it will set you back even further," Hugill says. "That's why NZ Labs spends so much time understanding our clients' needs and strengths and finding exceptional candidates that complement them. "
Upskill Your Processes
If a company is looking for skilled tech talent, it makes sense to use advanced software and applications. The skills gap demonstrates that companies are struggling to keep up with the fast-moving tech tide, so a tech-savvy talent management process shows applicants that a company is capable of adapting to these changes.
Don't get desperate and substitute quantity for quality. Finding the right people with the right skills that fit your culture, are aligned strategically, and are excited to be working on your projects is more important than filling a job opening. Take the extra time it takes to find the right person. It will save you time and money in the long run.
Search For Tech Talent Further Afield
As the labor deficit increases, companies will have to shift gears and reconsider their current recruitment models. The tech talent deficit isn't just about a lack of bodies; it's about where you're looking for labor.
Focus on finding talent from underutilized external sources. After all, while it may seem the world is facing a talent shortage, there is no shortage of talented people in the world.
While staff augmentation was once, to some, simply a euphemism for outsourcing, it's now a robust business strategy –– and one of your best bets to overcome the talent shortage. If you can't afford to wait for talent, entrusting a staff augmentation partner to take the reins will provide you with skill-specific staff and none of the hiring hassles.
Ambitious staff augmentation firms source skills from powerful but often overlooked talent pools.
When the cost of onshore IT talent is too high, employing the right outsourcing model can help you expedite a project with no infrastructure investment.
Find Exceptional Tech Talent Today
With NZ Labs, the world is your workforce. Contact us today to learn more!