Everything You Need to Know About Staff Augmentation
Staff augmentation can be a powerful weapon in your company's arsenal –– if you know how to wield it.
Whether you're new to the concept or have been using a staff augmentation service for years, this article will lay out everything you need to know about how staff augmentation can help you level up your next project.
What is Staff Augmentation?
For ambitious organizations with big plans and projects on the horizon, hiring in-house tech talent can be tricky. The time and stress it takes to find the right developers can cause a company to lose momentum, not to mention money.
To avoid hiring pain points, you need a modern staffing model that enables you to fill staffing gaps on critical projects.
Staff augmentation is an outsourcing strategy that allows businesses to extend their development capabilities without increasing their overhead costs. If you want to expand your IT team with top-level talent without the hassles, staff augmentation could be your full-service solution.
In the IT sector, staff augmentation companies can connect you with data scientists, big data architects, system administrators, and more.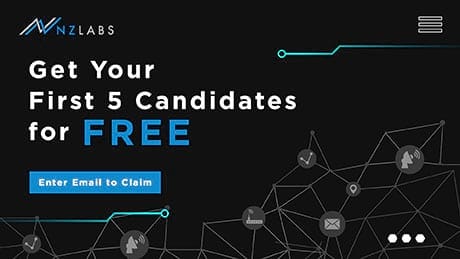 Don't Miss Out On...
Get Your First 5 Candidates for FREE
Enter your information bellow to claim the offer.
Is Staff Augmentation Right for My Project?
Staff augmentation allows you to harness global tech talent and manage your augmented team directly.
It could be the right solution for you if:
One: You Need to Extend Your Capabilities Fast
Even with a great team of in-house engineers, some products and projects require more skill. If you want to extend your team with experienced programmers and develop another part of a product, you'll need to hire more professionals.
While this may sound easy enough, shortages in your local talent market can make it impossible. Local recruitment takes too long and comes with a lot of financial risks. When you need top talent fast, staff augmentation is the only viable solution.
Two: You Don't Know Where to Look for New Engineers
Suppose you're developing a new tech product. At first glance, your programmers seem to have all the bases covered. However, in a few weeks, your team becomes overburdened and you realize there are massive gaps in your skillset –– you need to add new engineers to your team.
Making quality hires is one of the most demanding challenges you face as a team manager. This is especially true in the tech industry, with the already high cost of programming talent rising every day. If you don't know where to look, a staff augmentation company can handle the search for you.
Three: Your Current Outsourcing Model Isn't Cutting It
Perhaps you already outsource your engineering. Maybe you leverage a different outsourcing company to develop your product, but the model no longer fits your objectives for a few reasons:
1. You need the ability to communicate directly with your offshore team on a daily basis.
2. You want to be better acquainted with your remote engineers, so they can become part of your company culture.
Other outsourcing strategies don't prioritize in-house and offshore integration. Choosing staff augmentation gives your offshore programmers the interaction and motivation necessary to chase a common goal with you and your in-house staff.
Types of Staff Augmentation
There are two main staff augmentation hiring models:
Short-Term Solutions
Team managers use short-term staff augmentation during periods of increased demand for developers. This short-term collaboration strategy can also be useful when in-house specialists are out of office or tied up with other projects.
Long-Term Solutions
For big projects, long-term staff augmentation services are used to fill a skill gap, expedite the hiring process, and cut costs.
What Are The Benefits of IT Staff Augmentation?
Staff augmentation is fast becoming the most sought-after recruitment model and with good reason. Some of its many benefits include:
Complete Control
Stay informed about every detail through advanced project management strategies. Staff augmentation allows you to pull from a pool of experts while maintaining complete control over the development process.
Full Flexibility
Scale up or scale down whenever you want. Our staff augmentation model lets you have as many skilled specialists as you need at any given time.
Unmatched Quality
Maintain the ability to choose who you are going to work with. NZ Labs talent reserve includes distinguished developers who will add value to your project the moment they join.
No Maintenance Costs
There are no hidden costs. With staff augmentation, you don't have to factor in office rentals, equipment, or long-term hiring costs.
The Bottom Line
Staff augmentation is a great option if you need to quickly scale your team or are lacking a particular skill.
It brings lots of advantages, including:
- No infrastructure investment
- Reduced recruitment time and costs
- Lower operational and overhead costs
- Immediate access to top-level tech talent
However, not all staff augmentation initiatives are created equal. Before choosing an outsourcing partner, do some market research to determine which company can offer you the best value and service.
Exceptional IT Talent is Hard to Find. We Make it Easy.