Startups and established corporations worldwide are searching for new ways to lower their managerial burdens and prioritize exceptional on-time project deliverables.
When in-house teams fail to meet market needs and take more time, money, and recruitment efforts than they're worth, staff augmentation can be a lucrative and flexible solution.
If you're ready to overcome the universally recognized shortage of IT specialists through staff augmentation, there are some factors you should consider before choosing a partner. A company's portfolio, technical skills, cultural compatibility, sourcing techniques, and communication methods can all determine whether they will be a good fit for your initiative.
Before we dig deeper, let's lay out the fundamentals of staff augmentation and why it's the undisputed future of outsourcing:
Understanding The Need for Staff Augmentation
Digitalization is no doubt here to stay. Computer technologies are swiftly improving every sphere of our existence, from dating to driving to dining. With the rise of "remote" and "virtual" solutions taking over during COVID, technologies are conquering every industry and creating an even greater demand for software development specialists.
Since the population is growing and IT education is more available than ever, it would be easy to assume that tech talent is fast to find. Unfortunately, this is not the case. The demand and competition for IT staff are only going to increase.
Finding qualified IT staff is hard, and finding affordable IT staff is even harder. That's why staff augmentation reigns supreme in IT industries.
So, What Exactly is IT Staff Augmentation?
In simple terms, staff augmentation is a flexible outsourcing strategy that allows organizations to scale up their tech capabilities in an affordable way.
When you partner with a staff augmentation firm, they will evaluate your skill set and help you augment your team with talent who can help you achieve your goal. Both long-term and short, project-based engagements are possible with staff augmentation. For more information about this lucrative outsourcing model, reference our blog.
The Benefits of IT Staff Augmentation
Staff augmentation helps you curb the talent drought, hire specialized talent, and build a powerful, multifaceted team. Other benefits include:
Cost-savings: Staff augmentation allows you to decrease overhead costs and training costs by working with offshore freelancers.
Access to unique skill sets: A good staff augmentation partner helps you find the contractors with the ideal proficiencies for the job.
Unlimited access to top-level talent: With staff augmentation, the world is your workforce. You are no longer limited to local talent and can add world-class IT specialists to your team without a stressful search.
Easy onboarding: Onboarding temporary specialists with staff augmentation is simple. All developers will blend with your corporate culture and workflow.
Immediate scalability: If you need more mind power to produce the deliverable, your staff augmentation partner will let you scale your workforce up and down as needed.
If these benefits sound good –– let the hunt begin.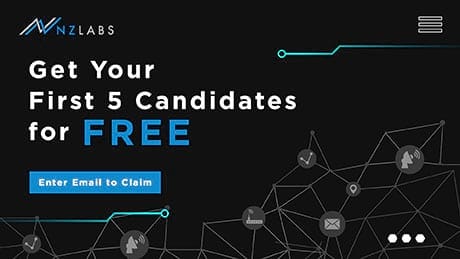 Don't Miss Out On...
Get Your First 5 Candidates for FREE
Enter your information bellow to claim the offer.
What to Consider When Choosing an IT Staff Augmentation Partner
Searching for a staffing partner is often easier said than done. With so many staff augmentation agencies out there, it can be tricky to tell who is legitimate. To cut through the smoke and mirrors, consider the following factors:
The Company's Portfolio
This is the first factor you should explore. Who has the agency partnered with in the past? Do they have IT expertise themselves?
Sifting through client testimonials or your prospective partner's work history will help you determine their efficacy. You can also glean a basic grasp of how they operate from their website. When looking through their pages, see if you can determine how they find their talent. If they source staff from a far-flung country, does it seem like they have strong relationships in the country they're working with?
Language and Culture Differences
Today, you can find a qualified IT workforce all over the globe, with most staff augmentation firms tapping into talent wells in Eastern Europe, South Asia, and Latin America, where service rates are attractive.
However, capability alone doesn't always transfer into a successful staff member. Any company building a remote team should ensure there is cultural and lingual compatibility between their in-house team members and outsourced talent.
When partnering with a staffing agency, consider the work ethic and culture of the country where they find talent. If you're an American corporation, outsourcing to a European country like Belarus will ensure your augmented staff will join your team with exceptional English skills and a tireless work ethic.
Technical Skills
Your staff augmentation firm should have a clear understanding of the project requirements, but this is just the bare minimum. The firm in question should be invested in the future of tech and have deep experience in the software development sphere.
Look out for staff augmentation partners who have headed other IT businesses and know the industry inside and out. Because they know so much about tech, you can be assured that they will only work with the best specialists possible.
Communication Methods
Hard skills are essential, but they won't yield the best outcome unless they are matched with soft skills. You must consider how communication with your staff provider will be conducted. Will they prioritize having an open line of communication? Are they responsive and quick thinking?
The best staff augmentation providers are ready to adapt to their customers' requirements. Scalability is also a crucial factor to consider. Because software development projects often run into unforeseen road bumps, it's best to choose a partner like NZ Labs, who gives you the room to scale up or down when your project demands.
Rates and Quality of Service
Across all industries, there's a misconception that the better quality of service a firm provides, the higher its rates will be. In the IT world, this isn't always true.
You can always hire high-end specialists at a reasonable price if you know where to look. Choosing a staff augmentation partner who works with a country like Belarus can provide top-notch talent without burning a hole in your pocket.
In fact, when you work with NZ Labs, the level of talent you have access to is even higher than what you can afford in-country. Our specialists are all top-level graduates from the European IT haven of Belarus. Many of our developers are educators themselves, delivering lectures to the next generation of tech talents for the last 25 years.
The Bottom Line
Choosing the right staff augmentation partner is vital to the success of your project. Before signing on the dotted line, ensure your partner has an exceptional track record, provides the best value for money, and has exceptional technical and communication skills.
Choose NZ Labs
By partnering with NZ Labs, you receive the best team for the best price. We handpick specialists that will blend seamlessly with your corporate culture and processes. Contact us today for a consultation!